We encourage community groups and organisations to support International Volunteer Managers Day and related promotions.
Have a look at our current and past promotions to help you with your promotional plans.
2019 Theme
"Change the Tune!"
We believe that this theme reflects the frustration experienced in many volunteer management circles, where we continue to have the same struggles and discussions year after year. This year's theme is a chance for us to think differently about how volunteer leadership is positioned – in the hope that we can change the dialogue.
We are also proud to announce that 2019 marks the 20th time we have celebrated IVMDay!
Please spread these resources far and wide.
Click on any of the images to link to full-size graphic.
2018 Theme
"Time for Change"
We hope that this timely theme will allow us to explore the changes needed in our great profession to ensure it remains relevant and powerful into the future.
The team at Volunteering Queensland have provided the following graphics:
2017 Theme
"Be The Voice!"
The 2017 theme seeks to recognise that Volunteer Managers need to be so much more than just accomplished leaders of people – we need to be change agents and advocates for our volunteers and for volunteering.
We need to make a difference.
We need to agitate.
We need to advocate.
As we look at global trends, politics and priorities, the need for effective volunteer engagement has never been more important – and while it's important to celebrate our great profession on IVMDay, we also want to encourage all volunteer leaders to find ways to fight for great volunteering environments, advocate for adequate resources and become effective activists for the profession of volunteer leadership.
Sabrina Norbido and the team at Volunteering Queensland have provided the following graphics:
2016 Theme
Volunteer Management. One Job. Many Hats.
Aside from being a theme that we hope many people can have some fun with, it also reflects the multi-dimensional skill base that VM's have to develop to be truly effective in their roles.
Further, it speaks a lot about how volunteer leadership is such a critical part of so many spheres of society.
The team at Volunteering Queensland have provided the following graphics:
Here is an oldie but still relevant (Energize inc)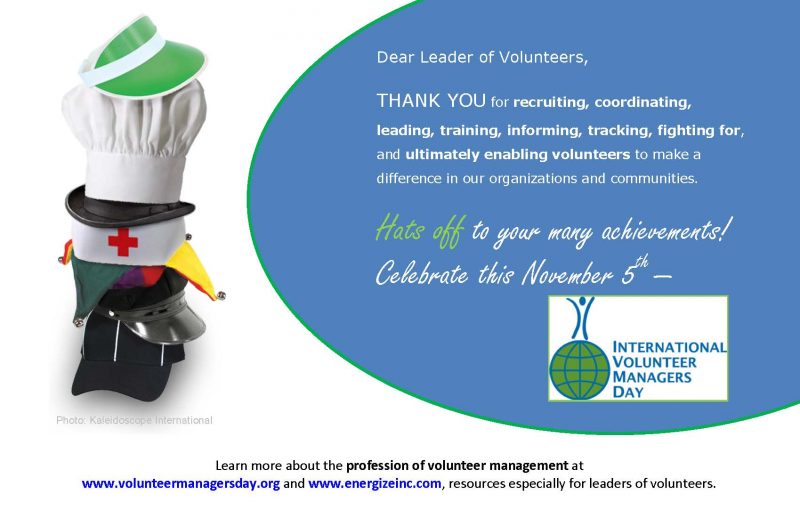 2015 Theme
Volunteer Managers: The power behind Super Hero volunteers
Have a look at the 2015 superhero themed memes from a variety of sources.
A variety of banners from around the world: